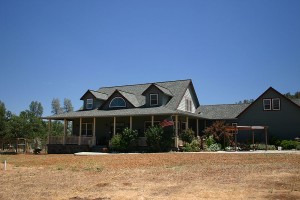 Want to try something different? Come stay at the Villa Barone, a sustainable farm and olive orchard. We have two private rooms with bath. Take a tour of the farm or olive orchard.
The room includes a 9% County occupancy tax. Breakfast includes farm fresh eggs and homemade jam. We strive to serve local food, organic when available. The property is gated and once you check in you will receive a loaner gate opener which will give you access. Be advised that the last 2 miles to reach us in on a County maintained dirt road. I use the term maintained lightly. The road is always passable, but sometimes it has a large number of pot holes or washboard. There are numerous wineries within a short 15-30 minute drive and we have complimentary wine tasting coupons for our guests.
We have a dog who lives outside and is very friendly. We also have a cat who lives in the house. It is very peaceful and quiet, lots of fresh air and no neighbors or road noise. There are only two rooms available so most of the time you will not have other guests on the ranch, but this is not guaranteed. We are working the farm & orchard 7 days a week so you are only hosted thru breakfast and the tour.
If you would like to take a cheese, jam or soap making class they are available for $50 per person, advanced noticed is required and the fresh goat milk is seasonal.
.
For more information visit:
https://www.airbnb.com/s?host_id=9061484